Constantly growing demand for wood chips
The demand for wood chips is rising globally. Wood chips are used in many forms. For example pulp (paper), restoration ecology, mulch in gardening, landscaping and of course biomass for heating. Especially in the current unstable situation in Europe, the demand for different forms of heating is high.
So nowadays, many people are looking for the right kind of forestry equipment for cutting energy wood. In Finland, we have forests as long as the eye can see, and forestry in Finland is a really big thing. Energy wood has been used for a long time. We at TMK have made chopping trees even more efficient with the one grapple arm tree shear.
This can also be seen among our customers, as our tree shears have already been sold to more than 40 countries around the world. Thanks to our customers for trusting us, with them TMK Tree Shear has grown even bigger year by year and we have been able to offer our services and products more widely around the world. Many customers have initially purchased one of our tree shears, but have later ended up buying another one after seeing its great benefits.
In this blog, we will go through why TMK Tree Shears are excellent forestry tools. So I recommend reading at least these three points to see why the TMK Tree Shear could be just the right choice for you.
3 reasons we promised
    The weight and size of the TMK Tree Shear in proportion to the size of the machine
TMK Tree Shears are light and compact. That's a good thing, because then they can be connected to small machines. The smaller the machine, a smaller route into the forest is needed. This means that the forest remains better intact and only selected trees are cut. Also the lighter the attachment, the better the fuel economy as there is less weight needed to move. This is a very important point especially with the current fuel prices.
For example, the TMK 300, our second largest tree shear model, weighs only 260 kg (575 lb) and can be combined with machines as small as 5 ton kg (11 ton lb). The TMK 300 easily cuts up to 300 mm (11.81") of soft wood and 250 mm (9.84") of hard wood. Watch the video to see how efficiently the TMK 300 works on a 5.7 ton kg (12.6 ton lb) forestry excavator.

https://youtu.be/hOeqIx2rhZU
Read more about our four different tree shear models.
https://tmktreeshear.com/shear-products/
    Cutting capacity in proportion to the size of the tree shear
Although our tree shears are very light, they are still not ineffective. Each of our tree shear models has an incredibly good cutting capacity for its size. TMK Tree Shears are named according to their cutting capacity: TMK 150 cuts 150 mm (5.9") wood, TMK 200 cuts 200 mm (7.87") wood, etc.
In relation to its own weight, for example, the TMK 150 is really efficient. The TMK 150 weighs only 75 kg (165 lb) and cuts 150 mm (5.9") wood with ease. All this is possible thanks to the unique durable structure and the extremely durable Hardox 500 steel used in production.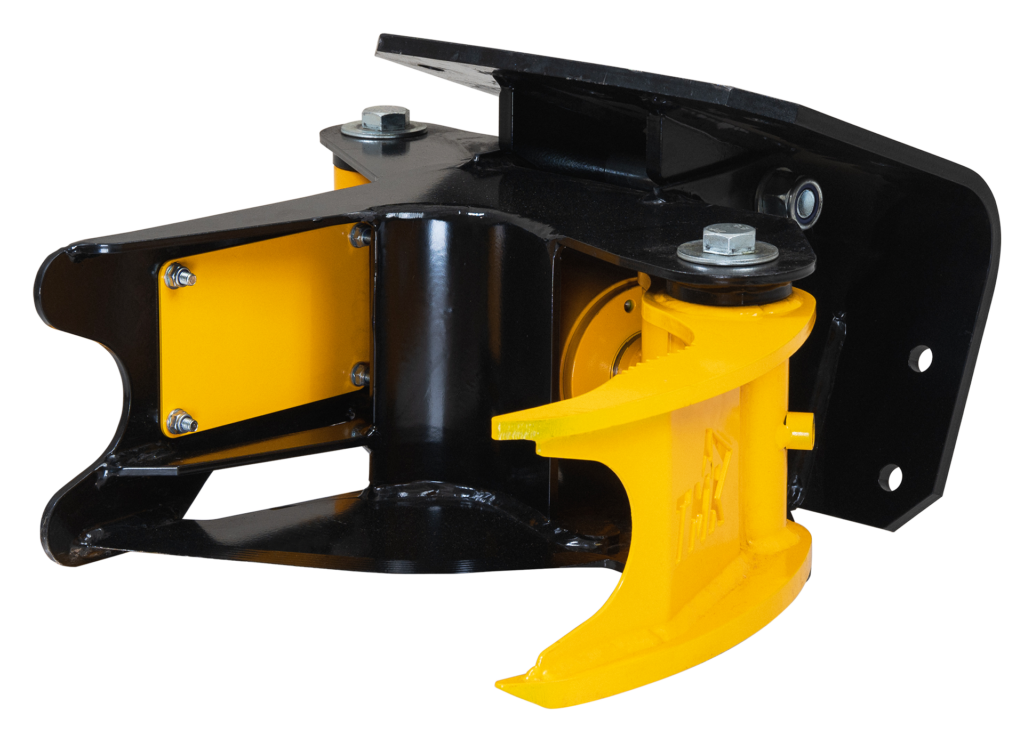 Productivity with a wide selection of attachments
However, the money-making energy tree felling is not only about cutting capacity or easy movement of the machine in the forest. In order for the job to be profitable, the trees must be felled quickly enough. Time is money! This is why TMK Tree Shear attachments have been made. I will raise two special attachments here: the Collector and the TMK Turbo cylinder.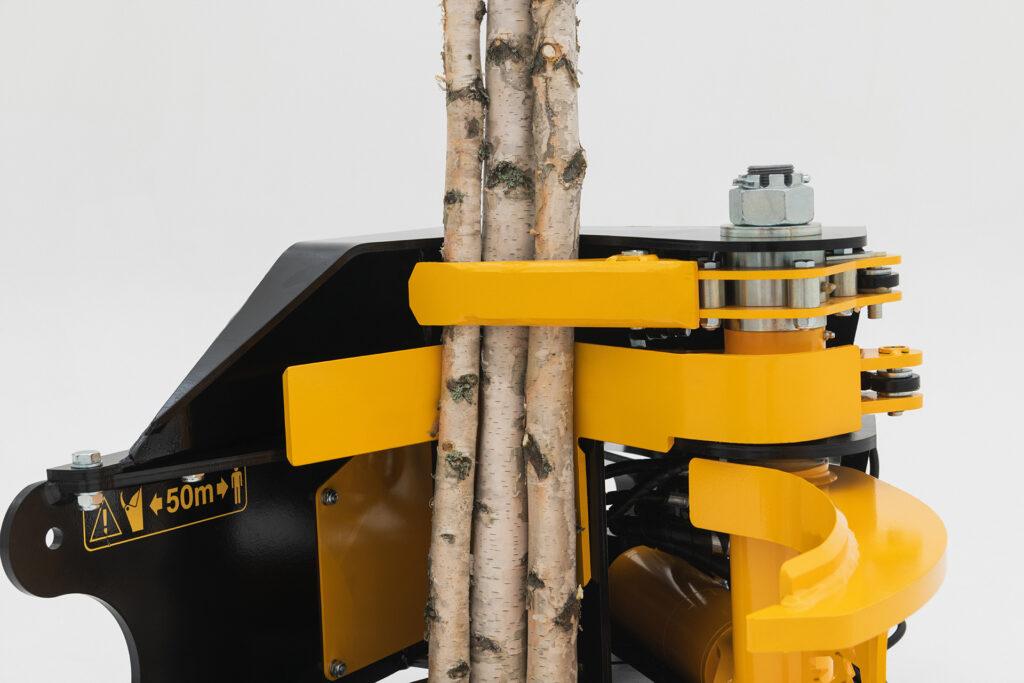 The Collector makes cutting trees and moving them much more efficient. The Collector takes hold of the cut wood, so the grapple is released, and it allows another tree to be cut. This can be repeated until the tree shear is full and several trees can be lowered to the ground at a time. The Collector therefore considerably reduces the need to move the boom and the machine, when several trees can be caught before they are dropped.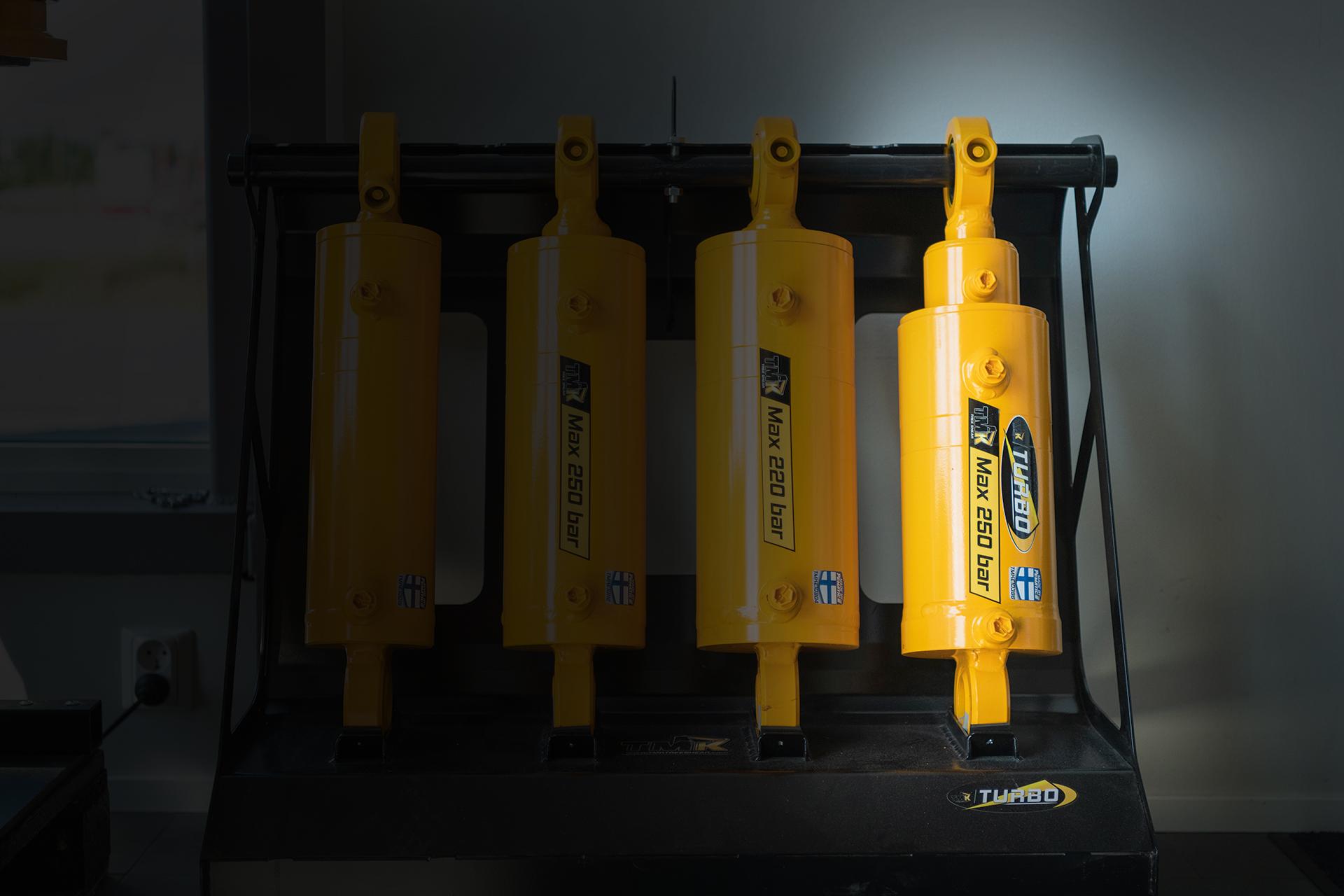 TMK Turbo is our patented main cylinder consisting of a smaller cylinder inside a bigger one. The smaller cylinder is always activated first, and the bigger one only if there is not enough power. This speeds up the cutting of small trees a lot and does not eliminate the possibility of cutting a larger tree.
The 3 points mentioned above are only a small part of what we can offer
Based on these three things, you've probably already got a better understanding of why TMK Tree Shears are the right choice for cutting energy wood. However, the good sides of TMK Tree Shears are not limited to these. The jobs varie and therefore our product offering meets the needs of different users.
Our TMK Family around the world will help you find just the right tree shear set to suit your work. Check the list to see where you can find your nearest distributor and contact them. You can also contact us directly via the form below.
-Antti Toikkanen